You might wonder what those names have in common but there is an answer: Lacoste is a village in Provence, nothing to do with the clothing brand, and the residence for a few years of marquis de Sade; his chateau became later the property of Pierre Cardin, along with half of the village buildings…
Directed towards Lacoste, a small village with an intrigued story which is located just ten kilometers from Roussillon, we stop half way to photograph the bridge Julien [43.86323,5.30633]. We have to admit that it wears its two millennia history very well.
Lacoste, as seen from a distance, looks very promising: built in the  characteristic style of the area, unspoiled by modern constructions, with a beautiful castle on the top of the hill. The perfect Provencal village!

The designated area for motorhomes [43.83475,5.27197], despite being a simple parking lot without services, it is wonderful. It is very peaceful, surrounded by  trees and very close to the village.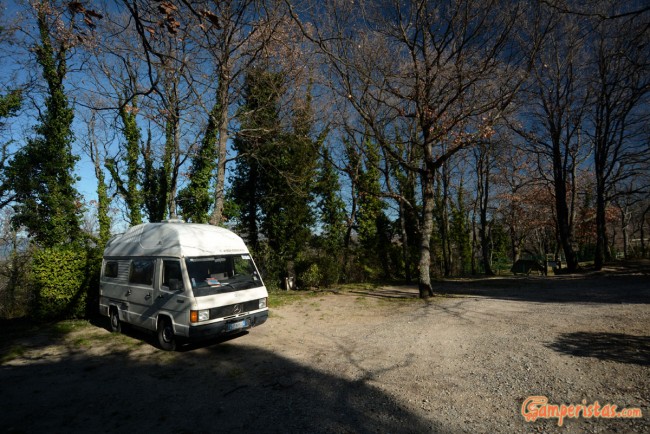 We take a stroll around the village and we realize that the only people we meet are young Americans who seem to be residents rather than travelers. We were informed that Lacoste is the European headquarters of the American Savannah College of Art and Design, which continues the tradition of the first art school founded there in 1970 by the American painter Bernard Pfriem.
Lacoste is also famous for a festival of theater and opera, organized by Pierre Cardin every July. It is obvious that this charmingly beautiful village is not touristy at all! Probably it has been 'saved' from mass tourism by their 'owners', the world famous designer and the university. Some locals may grumble about the new landlords but on the other hand it is true that Lacoste is one of the most authentic villages of the Provence.

The 'chateau' of the famous Marquis de Sade, although closed during the winter, is quite an attraction. The few visitors of Lacoste walk up to the top of the hill to see its entrance, the statues and the view. Who knows, perhaps some come to pay tribute to the memory of the Divine Marquis who spent there a significant part of his adventurous life.
Last picture, an homage to nature during winter…
Share this post