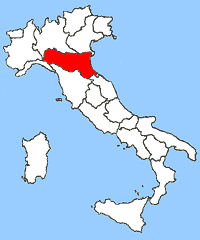 If you are in the surrounding area of Faenza, this is a place that deserves to be visited. Riolo Terme usually remains in the shadow of the most famous nearby Brisighella, maybe because it doesn't have that much to offer to the tourists. Nevertheless it is a nice fortified village where you can spend a pleasant half-day, plus the fact that it is also an excellent choice and a quiet place to spend a night.
We arrived in Faenza having in mind to find the camper stop; after few unsuccesful attempts (maybe we had the wrong coordinates…) we decided to leave the town and search for another option. After all, we weren't in the right mood for one more urban exploration. So, we opted for the quieter village of Riolo Terma, just a few kilometers away. 
Before leaving, we stopped at the gas methane station [44.30392, 11.89373] where there is a camper service point for free, although the system is a bit complicated … For sure it was the first time we had to show our passport to discharge the toilet ;)
This means that to have access to the discharge area, you must first pass by the office of the distributor and leave a document in order to get the keys. Precisely there are two keys, one that gives you access to the drain pit and another that permits you to remove the lock and to refill the water tanks …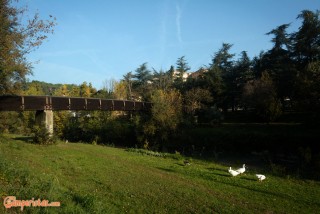 The 'area camper' of Riolo Terme [44.27279,11.72122] is set in a beautiful location; it is a large parking lot  next to the river and within walking distance from the village center and from the spa area.
The camper service point was out of order, but when we asked about that at the tourist office, they assured us that it is temporary and that they would have to fix it soon.
After a quiet night, the next day we went to visit the old town, dominated by its castle (Rocca).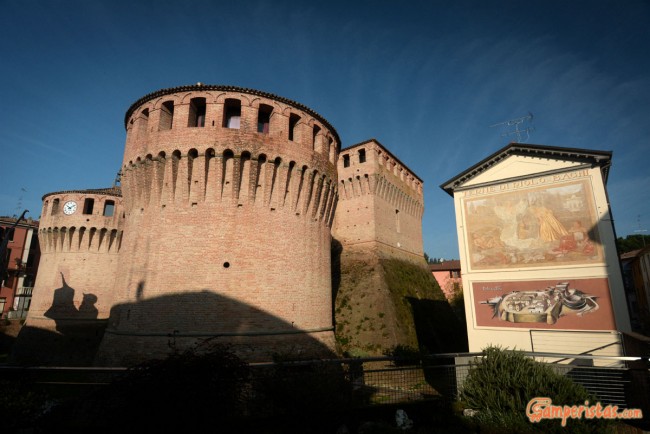 The Fortress is quite particular, as it is in the middle of the village surrounded by houses and shops. Inside there is a bar and a museum that we didn't visit because it was closed.

We left behind us the fortress, that was decorated with a  giant bat on the occasion of the traditional Celtic New Year (!) and we get to see the church of San Giovanni Battista. It doesn't fit very well with the surroundings, but it's imposing!
We returned to the car park following the path along the city wall, which is decorated with various sculptures of doubtful aesthetic value.
Before leaving to Brisighella, we went for a last walk to the Spa area. The buildings are very beautiful with an old-time atmosphere. There is a park too where you can enjoy wonderful walks.
In the picture at the bottom right you can see an impressive tree of life (red cypress Eastern).
Share this post