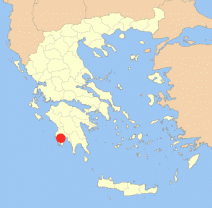 For years we've heard of Polylimnio but for some reason or another we never had the chance to visit this fabulous place. Although we've been nearby a few times, it was never the right season to stop by it as it was too cool to swim. But finally the right time arrived and and we reached this beautiful spot of Greece. It's not exaggerated to say that Polilimnio is a tropical paradise, only thirty kilometers from Kalamata!
Polylimnio means "many lakes" and its name refers to the numerous lakes that the stream Mavrolimni forms during its descent to the sea. To get there, take the road that goes from Kalamata to Pylos, turn left to the village Charavgi and then follow the signs. The last section, about two kilometers, is not paved, but it is in good condition and suitable for any vehicles.
The parking area [36.98834, 21.85526] is quite large but with little shade and limited flat space. I have the impression that it fills up quickly too. The good news are that during the evening it is almost completely empty; only campers remain. So I think that It is best to arrive in the late afternoon, when it is easy to park, stay overnight and enjoy the silence and the mountain breeze and in the morning to be the first to arrive at the falls. The only problem with doing so is that the water of the lakes will be a bit cooler, partly because the first rays of the sun reach the higher lake just after 11:00 am… It's true that you can't have everything ;)
From the parking lot we start walking down to the river following the dirt road. After a few minutes we get to an open space with panoramic kiosk; from there begins a paved path that leads after a few dozen meters to the river. We pass by a fountain with drinkable water. Once at the river, we must decide whether to go down or up. Taking the path to the left (down) we arrive at two natural pools with less people during peak hours, but less impressive than those we reach if we are taking the right path up the river.
If you take the path to your right, after a few minutes you get to the first pool and shortly after to the famous heart-shaped 'Kadoula', the lake with the most photogenic waterfall. The path at some points is a bit hard, but with a little attention you can get to the lake without ever having to get your feet wet. As always I recommend to use hiking boots although most of the visitors wear flip-flops! The path continues and theoretically you can reach a dozen(!) other lakes, however, it becomes increasingly difficult and we preferred to stop here.
The place starts getting crowded after 11.00. For us it is time to leave!
As you can see, one of the most popular activities is to climb on the rock next to the waterfall and to dive from there into the icy water
Share this post