We take advantage of our presence in Greece to try new flavors combining the Greek with the Italian cuisine. The result is Italian-inspired dishes made with locally sourced products that are easy to find almost everywhere in Greece. It is definitely worth a try given that there are simple recipes, ideal for the limited space of our RV kitchens!
Pasta with mixed coloured peppers and ginger
---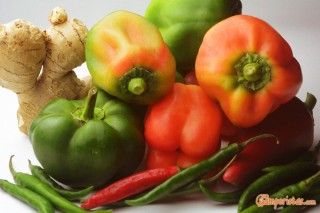 It is a quick and easy dish that tastes great and it's so nice in appearance too…
Here's what you will need (for 2 persons): 3 of 4 coloured peppers, fresh or dried hot chilli pepper, ginger, capers, garlic, olive oil and parmesan cheese or any other hard Greek cheese like kefalograviera. This sauce matches well with thicker pasta (penne, farfalle, maccheroni etc).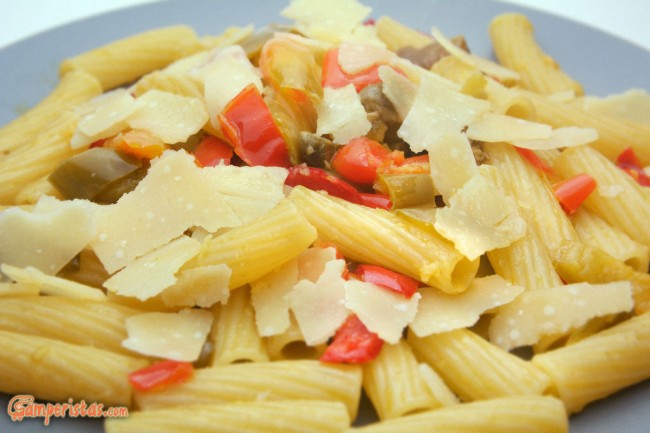 For the preparation: put in a large saucepan plentiful olive oil, finely sliced fresh chilli and capers and let them warm, stirring regularly. Capers (caperi in Greek) are commonly found pickled in brine, salt-packed or more rarely in olive oil. The best quality comes from the Cycladic islands, notably from Sifnos.
Cut the coloured peppers into pieces about the size of the pasta that you will use and add them to the saucepan. Season with salt and cook until beginning to soften. Then add a clove of garlic (skordo in Greek) crushed or finely chopped and a good piece of ginger root (piperoriza or ginger in Greek) grated and cook for a few more minutes. In the meantime boil the pasta in salted water. When it is ready, pour it over the sauce, stir gently to combine and finaly add the grated cheese…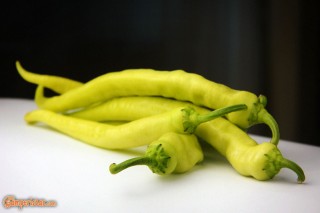 On the left you can see the most common variety of chilli used in Greece (kafteres piperies in Greek). They are 15-20 cm long and they are very hot!
Pasta with sun-dried tomatoes and feta cheese
---
Our second proposal is a Greek version of the traditional Italian dish "aglio, olio, pepeconcino" (sauce made with garlic, olive oil and chilli flakes, ideal for spaghetti). To make it more 'greek-style' you can add to the warm olive oil along with the garlic and the chilli flakes some sun-dried tomatoes soaked in hot water, capers and/or olives. Sprinkle some oregano and serve with crumbled feta cheese. Delicious!
Share this post