A fast and easy recipe of Greek cuisine, even if the name might seem much more oriental. A classic appetizer that is found in almost all the tavernas, also popular as a meze.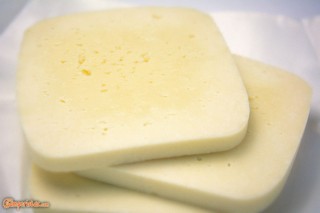 The name Saganàki means 'small saucepan' and generally refers to the type of cooking more than the content. There are in fact various types of saganaki made with shrimps, seafood, different kinds of cheese.
The one, however, considered the classic is done with cheese kafalogravièra, also known in Greece as 'hard cheese'.
At the supermarket ask for a saganaki cheese and they will point to the right one and cut it in the right thickness, about one centimeter, one centimeter and a half.
---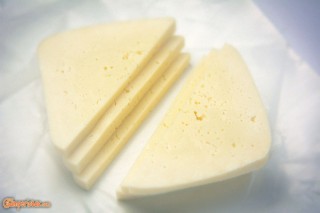 Slices size does not matter much, but is better to have not to big pieces to handle them better in cooking and having more surface that will give more crust at the end
---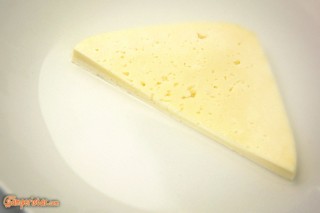 The slices of cheese must be soaked in water. A dish with a half inch of water will work fine.
---
From the water the slice of cheese then goes in the flour, making sure that it is completely covered with a thin layer.
---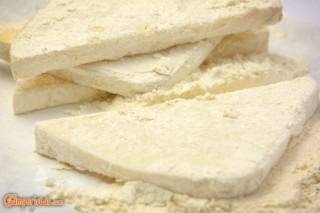 Once all the slices are floured you can begin to fry. I calculate a slice of cheese per person, which accompanied by a good Choriatiko bread and a salad make a full meal.
---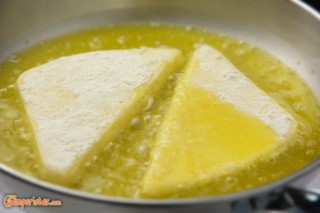 Put the cheese in little hot olive oil and let it get golden brown on low heat on one side before turning it over. To turn it just stab with a fork.
---
Once ready, drain the oil in excess and put it in a plate…
---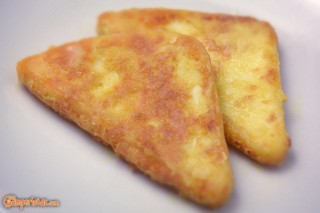 and immediately sprinkle it with a fair amount of lemon juice.
---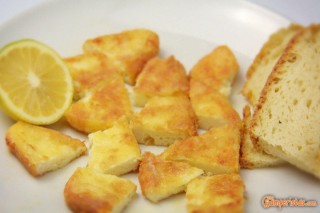 Add more lemon juice when cut into pieces and eat it before it gets cold!
---
Share this post