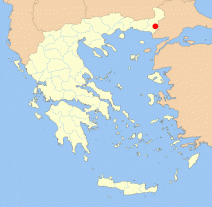 The National Park of Dadia is another gem for naturalists and especially for birdwatchers, but also for the less enthusiasts it is an unmissable opportunity to observe rare raptures, like the black vulture, in their natural environment.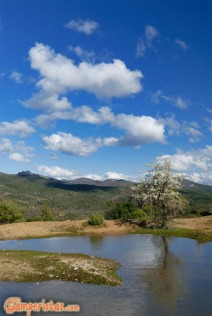 Dadiàs forest is a important sanctuary for as many as 36 of the 38 species of raptors in Europe. This peculiarity is due to the fact that the forest, being in a border area with few inhabitants, has not undergone to excessive destructive human intervention. On the contrary, the few farmers and woodcutters involuntarily provided the food for the birds of prey, leaving the carcasses of their dead animals. The loggers, in addition, thinning the forest and opening up small clearings, created the ideal habitat for these birds. Unfortunately, in recent years there are fewer and fewer farmers and woodcutters seem to have been reached the last generation. The result will lead to a change in the fauna in the near future, despite WWF scientists try to work around this problem, taking care to leave every 10-15 days an animal carcass for the vultures.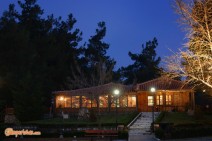 Eco-touristic center restaurant.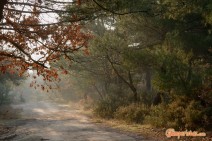 The beginning of the path that leads to the observatory.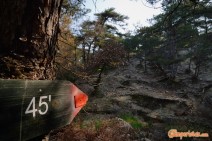 The path through the woods is very
well marked.
The Eco-touristic center is the starting point for excursions to the bird observatory and other walks in the woods. Anyone who wants can take advantage of guided tours and information material available. For the night we stayed right next to the Ecotourism center.
[ GPS: N 41.122180 E 26.228259 ]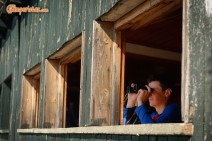 The bird observatory.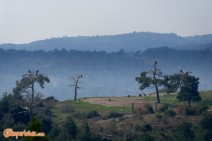 Vultures waiting for their meal.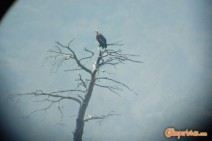 Vulture seen from one of the telescopes made ​​available to the public.
The few woodcutters left are still working with traditional methods. It is in fact forbidden in the forest to use mechanical means, outside of the drawn roads. So they are obliged to make use of the tireless donkeys to transport the logs to the collection point.
The icing on the cake, in the resort Katrantzides, 9km west of Dadia (follow the signs from the village), a restaurant in the middle of the forest, run by a female association (Gerakina), offers dishes not to be missed, as well as sell selling home-made sweets and other specialties.
[ GPS: N 41.12275 E 26.150246 ]
Share this post