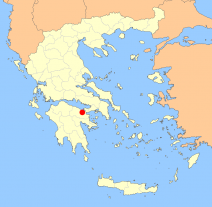 Yes, there is also a castle in Corinth! In reality, what you see above are the fortification walls, as were rebuilt by the Venetians in place of those of the ancient Acropolis of Corinth (Acrocorinth) and it is only by going there that you can understand why they chose to build it up there…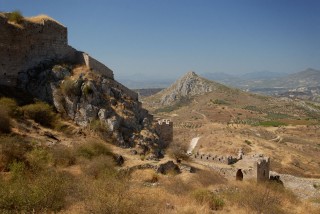 Let me begin saying that Acrocorinth is not a place not to be missed, but if you are already in the area, maybe after stopping at the camper area close by, I think it is worth spending a couple of hours wandering around on the top of the hill and enjoy the peace and the spectacular views it has to offer. From the top you have a perfect view of a radius of kilometers all around, it looks like a satellite view.
At the end of the road leading to the castle there is a parking area and a small bar. The entrance to the site is free, I suggest you put on some comfortable shoes and do not forget a supply of water, specially in summer it is essential and … attention to the slips!
Info Box
Acrocorinth is considered one of the most important medieval castles in Greece. li>
Built on a rocky outcrop 575m high … li>
At the foot of the fortress there was the Ancient city of Corinth. li>
It was started to build around 700 BC li>
In 1687 is was restored by the Venetians taking its present form. li>
It was inhabited until the liberation of Corinth from the Turks in 1827. li>
Castle map
Share this post