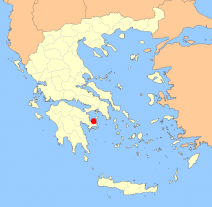 Arriving in Mèthana seems like arriving in the Caribbean, then the smell of sulfur get into your nose and heaven becomes hell! Fortunately, a few hundred meters after the marina, the air return breathable and you find yourself in a spa town with an atmosphere of other times that gives it a strange glamour. And then there's the volcano!

This is the image that you find in front of you coming out from the last turn before Methana. The turquoise waters of the thermal baths are those who mix in the sea creating this painterly effect.
Afterwards, on the left you will see the main spa center and the characteristic smell of sulfur becomes annoying. But it seems that these baths, known since ancient times, do wonders for various dermatological diseases.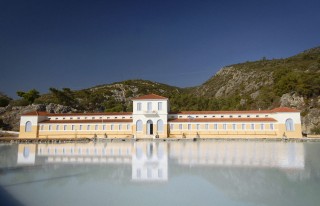 We are 95 km south of Corinth, 50 km east of Epidaurus' theater . The waterfront is lined with inns and hotels of all sizes, small restaurants and souvenir shops.
But everything has something very decadent, either because the average age of vacationers seem to be over 70, either because, given the structures, we would expect many more people on the street. The fact remains that at the end it leaves you with a positive impression.
We stopped for the night just outside the village, along the coast, having arrived in the late afternoon we did not want to keep going. With the benefit of hindsight I can say that is a better idea moving away from the spa area in order to suffer less the blistering and terrible heat.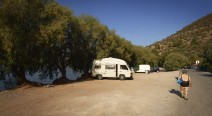 Luckily there were no mosquitoes, so we could at least leave all windows wide open to get to sleep a little better, but still… it was HOT!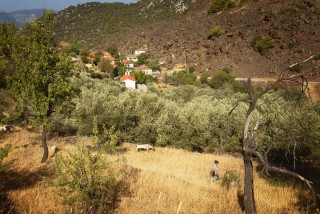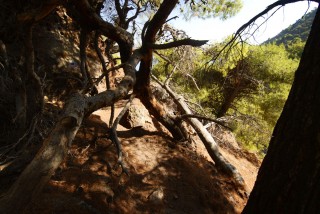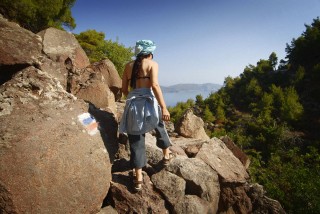 Next morning we took the road to Kaimèni Hora (or Kammeni Chora which means burnt earth) to find the path that leads to one of the mouths of the volcano of the peninsula. The indications are clear and shortly after passing the village we find the sign indicating the trailhead. The space is sufficient to park without problems and taken the path we see that, even if in ascent, is not particularly demanding and very well signaled. Reaching the top takes about 15-20 minutes and the route is beautiful, between volcanic rocks and breathtaking views. The volcano is not exactly what I expected. In practice it is an aperture in the rock and once inside you find yourself in a pyramidal room that recalls an oven. At the far end you see a cavity which is probably the true mouth of the volcano, but it's too dark to explore it. I should have brought a flashlight!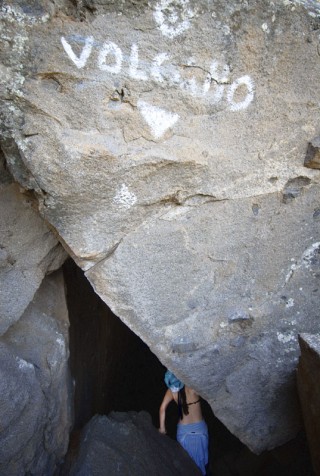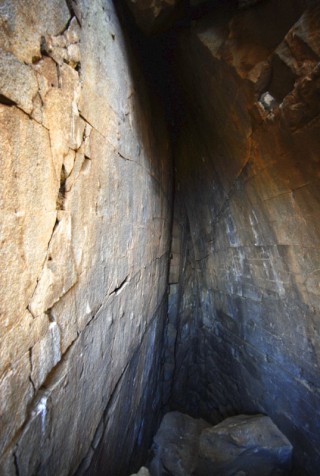 After the volcano, we went on the road that runs along the peninsula to return to Methana, seeing nothing to get excited about regarding beaches and sea.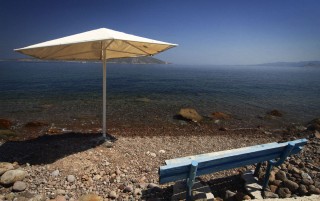 One of the many small beaches of the peninsula.

Enlarge Map
GPS Coordinates
Methana:
Spa center N 37.576598, E 23.38783
Stopover N 37.587150, E 23.399020

Kaimeni Chora:
Path start, to the Volcano
N 37.618553, E 23.336090
Share this post