Our first stop in Spain: Cadaques. We expected a wonder and we were a little disappointed. So after a very short walk around, we move to the nearby Port Lligat to visit the house of Salvador Dali. And here things start to get right! A marvel, an immersion in the creative madness of a great artist, view from behind the scenes. An experience not to be missed.
The first impression of Cadaques was very negative. Bad taste architecture ruins what used to be a wonderful place. A huge parking lot wait for tourists to park their vehicles, taking advantage of them with no shame. I believe this was the firs parking I ever saw charging per minute, 0.045€! We turned around and went back 800 meters up the hill where we parked in a small clearing along the road [42.29025,3.26979]… that was not a nice welcome.
The village along the beach is not bad at all, but still under the influence of the first bad impression, we cannot avoid to see everything as a tourist trap
We prefer to let it go and move to Port Lligat, few hundreds meter away, to visit the famous residence of Salvator Dali. We leave the van in the parking of the "fortunately" closed restaurant [42.29572,3.28671] and we go for the tickets. There we understand why it is better to make an on line reservation! Entrance is only in small groups and always guided. For our luck there was not so many people and we had to wait only one hour to get in. Meanwhile we took a walk outside and it already looked promising…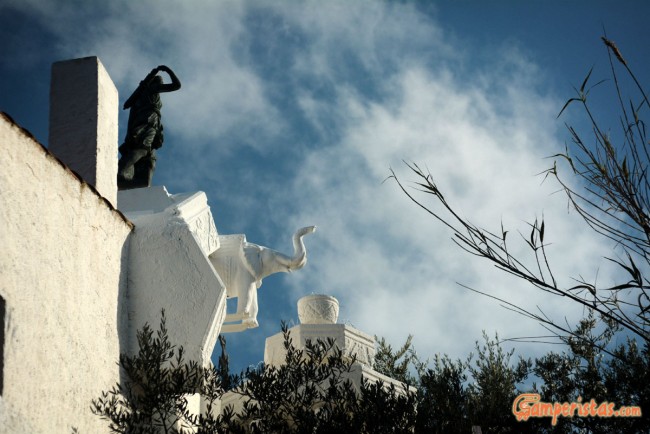 Eleven euros per person is not cheap, but it is definitely worth it. The best part is that, after the relatively short visit around the house interiors, you get out in the beautiful garden and there you can stay and walk around as long as you want, between olive trees and works of art.
Among the many things we learned from our guide about Dali's personality and his strong relation with his muse Gala, the most moving was that when she died in 1982, he left the house the same day and never returned. You can see unfinished paintings and personal things left behind like it was still inhabited.
Another jewel is the bedroom, with details like a mirror from where he could see the sunrise out of the window, without getting out of his bed.
Last rooms of the visit are the wardrobe, covered with glamorous pictures of the couple and a private boudoir, with a very singular acoustic.
From a very narrow passage, we get out in the garden where there are plenty artworks to be discovered and admired.
It was a great experience, nothing to do with 'normal' museums or galleries, which I recommend to all art and geniality lovers.
Share this post