Still under the influence of our French trip and at our first experience in Spain with the van, we still try to figure out how to move around and mostly where to stop without problems. We visit Figueres, Dalì's hometown, where we go to see his theater-museum… incredible!
As we arrive in Figueres, we park next to a big Esclat supermarket [42.26083,2.95140]. Fuel price is very low, but for the rest a bit on the expensive side. We leave the van there and we walk down to town. There is not much to see, except for the part dedicated to Dalì and his museum. One exception being the facade of one hotel below.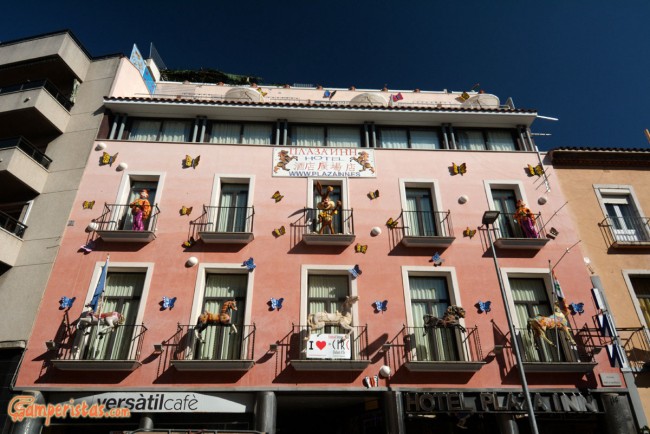 When we get back to the car, we decide that we wouldn't want to spend the night there, so we move to the clearing under the castle [42.27183,2.95136].
This is a perfect spot for leaving the motorhome near to the centre and for lunch or a siesta. But tires marks on the ground are a clear sign of what may happen in the evening… so we prefer to move down the road that leads to the museum and park there for the night. Finally we had a very quite night and a noisy morning, since we had parked in front of the entrance of a kindergarten
The castle have an entrance ticket and we where not much interested anyway. So we skip the visit and go directly to check the museum, which opens at 10am. There is already people waiting around the entrance half an hour before. The ticket costs 14€. It's not cheap, but it is worth it and I don't say this very often 😉 While waiting we take another walk around the building and you can see that Dalì is all around the place…
We finally get in and the trip begins… ending more than two hours later. It was really something. I will need days to recover and to elaborate all the images and inspiration I felt. We are talking about more than 1.500 works by Dalì, plus all his decorative interventions on the building and the temporary exhibitions by other artists.
Below you can see the anagram of Salvator Dalì name: Avida Dollars. This was the nickname given to him by André Breton. His tomb, in a small cript is probably a good sign of how close he felt to this place. He had worked for years on this theater-museum project.
The main stage, with hundreds of small details mixed to gigantic works of art…
The always present Gala and a beautiful three-dimensional portrait of the famous actresses Mae West, made with furniture, positioned in such a way that you can see the portrait from a certain angle.
Last beauty, the jewels gallery. I'm not a fan of jewels as a form of art, but in this case I have to bow and pay respect
Share this post