On our way up north, although the weather was not the best, we decided to make a short stop at the famous Lake Como. We stayed just a couple of nights, enough to get a little taste of the beauty of this corner of Italy, before moving to Switzerland. Despite being the middle of winter, it was not easy at all to find a place where to stay overnight for free! I don't even want to think about what a nightmare would be in the high season …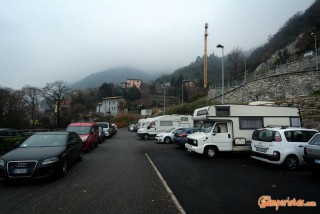 With the weather being cloudy and rainy, we decided to bypass the town of Como and to move up along the west shore of the lake hoping to find a nice little place to stay, preferably on the lake, and then come back to visit the town. Poor us!!
The road was so n

arrow that it was merely

impossible to

find

a

decent parking, let alone to get close to the lake

!

Eventually

we saw

a small parking lot

in Carate

Urio

,

on the main road

[

45.87115,9.11901]. I

t was by far the best option that we had seen so far

. We had also a nice view of the

lake,

albeit distant…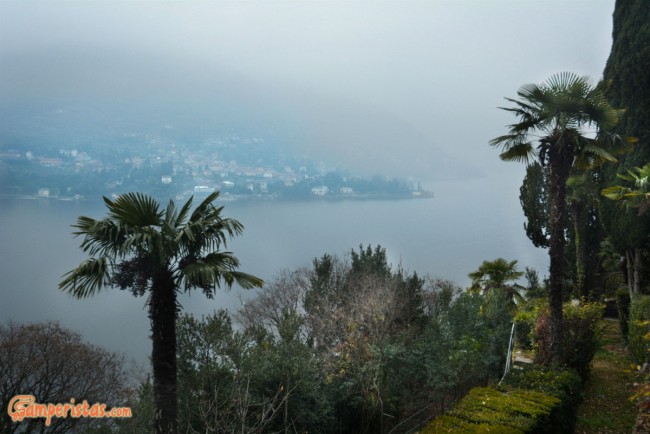 All in all we spent a calm night and in the morning we went for a stroll in the village. Unfortunately, the weather was as drizzly as it was the previous day. Walking into the village we soon realized that the lake is not easily accessible. An endless array of private residences block even the view to the water… I wonder: is this considered normal? We'd rather get spoiled in Greece, where coastline and shores are characterized as public good (with the exception of few municipal beaches). It seemed really strange to us…
After an endless series of maneuvers we finally managed to get out of the parking area, which in the meantime had inexplicably filled. We decided to return to Como, to try spending our last night there before leaving Italy.
We stopped in a parking area close to the center, where there is a fee on weekdays from 8.00 to 18.00 [45.80259,9.08352] in front of the police station. Next morning ... surprise! The sun was shining again! We left for a tour of the city, which is very pleasant and well worth a visit.
After lunch we went back on the road, making a few stops to photograph some pretty villages we encountered along the way. Our next destination was Lugano, where we finally arrived in the late afternoon, strangely without going through any customs control!
At Griante, always on the road, we saw some campers in a paid parking (from 9:00 to 19:00 every day) [45.98704,9.23304]. Given the lack of parking areas it can come handy for someone.
Share this post