We had long wanted to visit this Cappadocian-style site of Serbia, conveniently situated just a few kilometers from the route we usually take to go from Greece to Italy. For some strange reason (call it bad weather…) we always had to postpone our visit. This time, we finally did it!
We wake up in the sports center of Prokuplje, where we were parked for the night. This time the weather is encouraging, so after breakfast we leave in the direction of Djavolja Varos. We realise that it is a bit complicated to arrive there so we try to locate it first on googlemap.
The road is the same that leads to Pristina, the capital of Kosovo, but despite that there is no significant traffic. The road pavement looks like a work of abstract art! Practically it is an endless collage of different asphalt colors…
We leave the main road, following the navigator directions, confirmed by the google map information and we begin driving on an alley that becomes increasingly narrow, uphill and winding; at the end of this 'path'  we see with relief that there is an open space. It is the the parking area of the City of the Devil [42.98781,21.39350 ]. The total ride is approximately 65 kilometers from Prokuplje.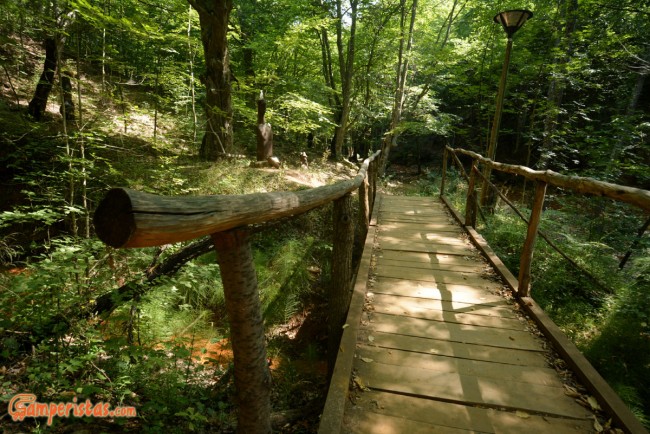 There are not many visitors around, the parking area is pretty dirty and the place seems a bit decadent, but we try not to be influenced by the first impression.
The entry costs 350 dinars each, which means 3 euro, and the site is open daily from 9:00 to 18:30; on special occasions or on request of groups, it is also open in the evening with a show of colored lights.
The walk inside the park is just 850 meters, but there is a lot of climbing, so it is recommended to wear hiking boots and to bring with you a water bottle.
After we passed the modern sculpture installations at the beginning of the path, we arrive in a few minutes at the red well, a former sulfur mine. Continuing along the river the colors become more and more interesting and out of the ordinary.
Then we take the path up to the rocks and we see this wonderful play of nature, which has given rise to many legends, hence the name of the park. It looks like a small forest made of stone pillars…
It is not one of the seven wonders (although it was a nominee for the New 7 Wonders of Nature!), but being so close, it would be a shame not to make the detour. For those who arrive in the afternoon, the parking lot can be a good place to stop and spend the night – if you are not afraid of the Devil, of course  😉
Share this post