Coming from Leonidio, on the road to visit the byzantine fortified town of Mistras, we make a stop at the impressive monastery of Elona, and then at the mountainous (over one thousand meters of altitude!) village of Kosmas, where we discover an oasis of coolness. It could be a perfect spot in case you want to escape summer heat…
After we spent a few days in Tyros, the birthplace of my father and where our family house is, we moved to Leonidio where we decided to stay overnight in the beach of Plaka. The plan was to wake early in the morning in order to be at the monastery of Elona around 9.00-9.30., to catch the right light right for the shooting.
We slept in the car park just right on the beach [37.14765, 22.89369]. It's a beautiful location although a bit noisy due to the motorbikes coming and going; we were rewarded however with the spectacular views of the dawn. In addition we had free access to the Internet, 'courtesy' of the nearby cafe Foinikas;)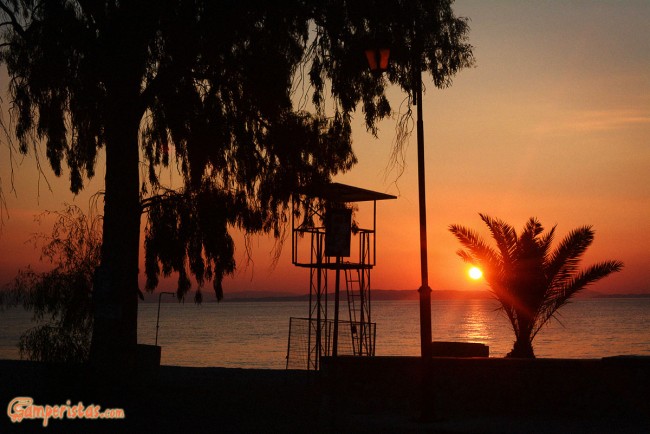 After a refreshing morning swim and a fulfilling breakfast, we left Leonidion taking the direction to Kosmas. Half an hour later (or 17 km to the southwest) we arrived in the monastery of Elona  for the 'postcard' photo that we were looking forward to. The location is impressive and it reminds us the monasteries of Meteora.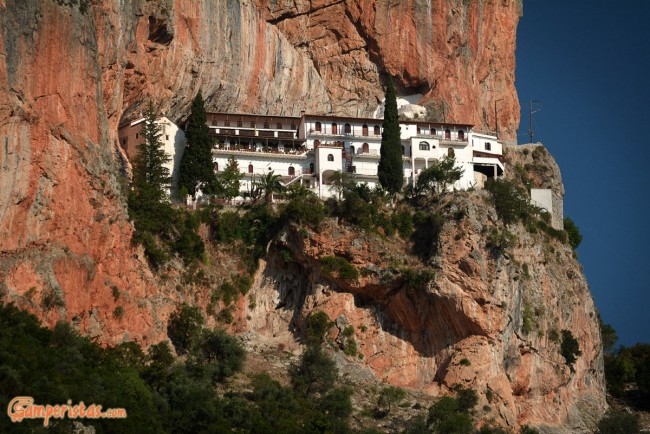 The road is narrow following the riverbed of Dafnonas gorge but there is a very convenient clearing to stop for the photos [37.14329, 22.77337], big enough to accommodate two / three campers. After this break we moved to the parking lot of the monastery [37.14636, 22.76763] to visit the interior.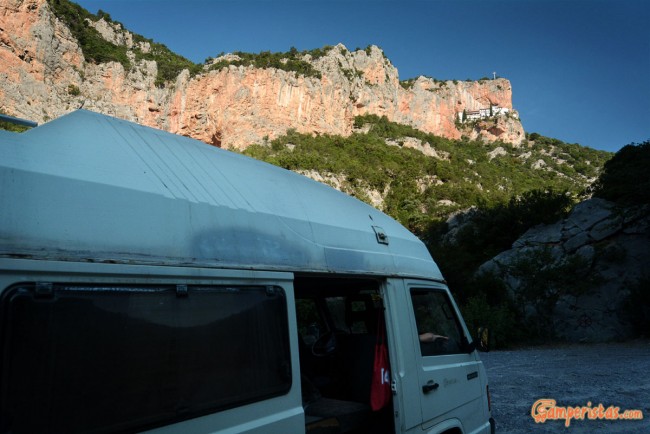 The monastery is open from 07:00 to 20:00 every day. If you want to attend the Holy Mass, you should be there at 7.30 – 9.30 (Saturday), at 07.45-10.30 (Sunday) or at 18.00 (daily).The main attraction, apart the wonderful view over the Arcadian mountains, is the supposed miraculous icon of the Virgin Mary holding baby Jesus, painted by Luke the Evangelist. The monastery seems new but it has a long-standing history associated with this icon.  According to the myth, the holy painting was found somewhere high in the reddish cliffs by shepherds. The area was already frequented by hermits and the first monastery was built to host the icon around 14th century. Today the monastery is considered one of the most prosperous in Greece, attracting lots of pilgrims. It celebrates three times, on August 15, August 23, November 21.
Curious fact: the famous icon was stolen in 2006 but fortunately it was found one month later in a village in the nearby Laconia region.

After our brief visit, during which we were offered coffee and lukum (traditional sweet), we got to Kosmas, where we parked in the lot below the church [37.09164, 22.74036]. The entrance into the village center is a bit shocking because of the narrow road, but you should not be discouraged: the village is served by bus routes, so if they can pass, you can go with your camper! ;)
A tip to reach the parking lot: coming from Elona, prefer the  entry after the church, which is wider and easier to large vehicles.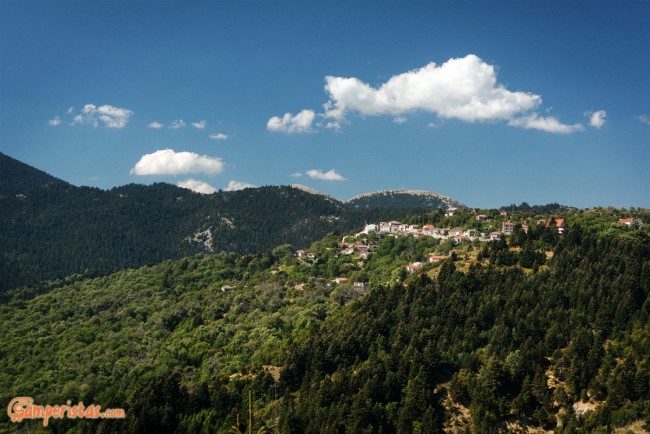 The picturesque square of Kosmas is a perfect place to sit and enjoy the fresh air and to taste a karidòpita, (walnut cake with syrup) considered a local specialty. Instead we took a walk through the narrow lanes and then we bought a nice horiatiko (rustic) loaf of bread from the bakery of the village.
Share this post