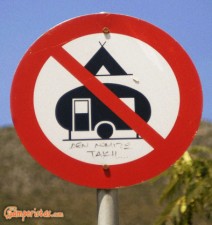 It may sounds odd but this post is the only one which is not based on our personal experience. We are traveling and almost exclusively wild camping all over Greece for the last 10 years and we NEVER encountered any kind of problem with the police authorities. Lately we hear more and more about cases where the Greek police issued citations for illegal camping, not just fines and penalties but calls for a trial in a Justice of the Peace Court. We tried to understand what happened and what one can do to protect oneself. Here are our findings…
In Greece, as in many other European countries, wild camping with a tent or a caravan is prohibited according to a 1976 law. Although this law was amended several times in subsequent years, it never included any kind of diversification between caravans and campers/motorhomes.
This confusion had at times resulted in unfair penalties. Be careful though: when you are in your camper/motorhome but you pitched an awning/tent/shade or you created your 'own' terraced site in front of your dοor to put your table and chairs or you lighted your barbecue or even you hung out clothes to dry, this is considered illegal camping and you have absolutely no right to complain about unfairness. You just broke the law. Instead, when you are simply parked, like all the other cars, you are completely legitimate.
Although according to the Greek law this is quite clear and obvious, it derives from a combination of legislation and it is not contained in one single paragraph. So, it might happen that an 'ignorant' policeman (or even worse a policeman 'stressed' by the owners of a nearby camping ground) could create you some problems. In any case, if you are following the law and you show them that you know your rights, you have nothing to fear.
Last year I tried to contact the Hellenic Motorhome Club in order to find a way to clarify the confusing situation. I found no response. I admit that for us who are Greeks or for who speak Greek, it is not such a big problem as we always find the way to solve the situation; nevertheless, it is not the case for the majority of the foreign motorhomers.
For these reasons we decided to act alone. I wrote to the Greek National Tourism Organization, to the Greek Ministry of Tourism and to the Road Traffic Police asking for clarifications about the motorhomes status regarding the 'camping legislation' . From them, only the Road Traffic Police responded to my note almost immediately. Here is the paper that they sent in March 27, 2015  to all the Police Departments of the country:
The highlighted part of the text says that: "the law prohibiting the wild camping refers to the caravans and obviously not to the motorhomes that belong to the category of vehicles and therefore they can stop and park in the public spaces following the regulations of the Traffic Code and the traffic signs as applied to all vehicles."
The following paragraph says: "Special note: when you see a parked motorhome this doesn't mean 'wild camping'. There must be other factors to account for this, such as awnings, table, chairs, etc."
This paper belongs to the internal communication between the Traffic Police and the Police Departments. You can download it and keep it handy in case of emergency (if you are being harassed).

Share this post