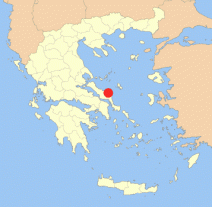 This is our last "sea session" for this trip and I have to say that it was definitely the best one. We had reached the central part of the island, always on the east coast facing the Aegean sea where we visited three beaches including the famous among Greek free-campers Chiliadou. But the biggest surprise was left for the end: a free of charge municipal camping next to a marvellous beach. It's nice to feel welcome!
Looking for a decent place to stop for the night we arrived at Mourteri [38.56338,24.16430]. It's an enormous beach extending over about 3 km to the south where it changes name to Agios Mercurιos. As might be expected for such a vast expanse of coast, there are stretches with beach bars, volley-ball courts, tavernas, umbrellas etc and deserted sections with just silky sand and nobody else around. The truth is that the beach is lacking shade and it is not immaculately clean but with a little research you can find the perfect spot, worth for a couple of days stay.
After spending a quiet night there, we went on the road again, planning to pass by Kymi not for visiting the town  (we already knew that the streets are very narrow…) but to get some supplies. It wasn't that easy. Finally we found a Carrefour at the outskirts of the town [38.63889,24.10987] which looked more a small grocery store with stale fruits and vegetables than a proper supermarket. Only for the bare essentials…

We went back to Kymi and we took the mountain road to Metochi. When we saw the coast from above we realized that our journey was more than worthwhile. We visited first the beach of Metochi (photo on the left). We had no doubt that the beach would be nice and spacious but we were in no way prepared for what we would find behind the beach: a nice, although spartan, free camping [38.66013,23.95530] with tap water, toilet and plenty of shade. When we asked our neighboring (Greek) campers, they told us that the place belongs to the municipality or to the church but anyway it is free with no obligation of consumption at the nearby taverna. It was the Assumption day (15 August) and perhaps this was the reason why it was a little noisy with families and groups of friends eating and enjoying and listening to loud music. Anyway, the beach is amazing and just a few steps from the 'camping'. This is a place 'not to be missed' once in Euboea.
Our next stop was at the widely famous among Greek campers Chiliadou beach [38.66080,23.92616]. Although it is almost 'adjacent' to Metochi, it takes a while to reach it through the mountainous road. The last kilometers are unpaved but in good condition. The campers (with vehicles or tents) have two options: either find a place in the grove but at some distance from the sea or to park along the beach road under the sun and exposed to the traffic. Chiliadou is very popular but it is big enough to not feel overcrowded even during peak season. It certainly deserves its fame…
Share this post