We carry on our 'beaches survey' mission by exploring the eastern coast of southern Euboea, from Koskina to Kalamos. What we discovered: a series of nice, though not spectacular beaches, more or less perfect for a couple of days stopover, especially in case you are looking for peaceful holidays enjoying the sea and the sun.  A simple place, far away from mass tourism…
Let's start with the two beaches of Koskina village. They are both pretty decent, expect that we found them a bit dirty; most likely this is not their permanent state and all that trash that we saw had been swept up by the strong wind. The first one, with the small church at the edge, offers a few spots under the scanty shade, but upon our arrival they were already occupied by locals who had set up their tents. In any case it's worth a try [38.36865,24.21011] .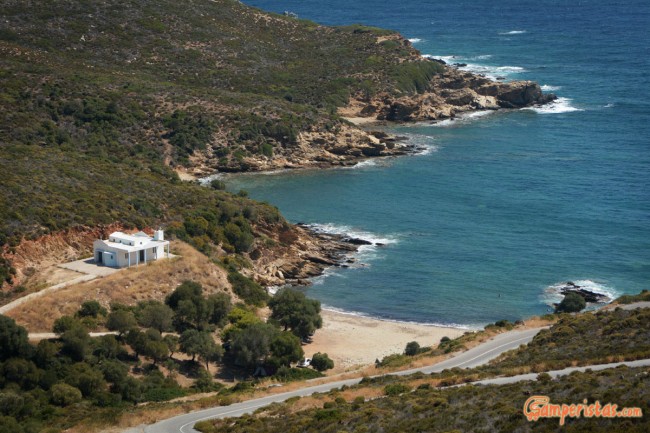 The second one [38.36651,24.21355] is more secluded though just as dirty… It is located only a few hundred meters from the first beach and it could be a good alternative for a short stay. As you can see there is no shade at all!
We go back to Koskina and take the road for Krieza village, located on the main road. Just before entering the village we turn right towards Petries. It's an hinterland village with a seaside 'annex' named Agioi Apostoli, filled with bars, tavernas and various shops. It could be classified as the most 'vibrant' resort of the area. Too crowded for our taste, so we head further north to reach the doulbe beaches of Stomio / Heromilos.
We stop first at Stomio [38.42680,24.18717] where we park in the shade. The beach is almost empty except for a few people and a couple of Greek caravans. (I may have to remind you that it was the middle of August!) Next to the modern-style church we find a shower with a water tap easily accessible to fill the tank.
We enjoy the tranquility and the silence for a while and then we move to the nearby 'twin' beach Heromilos [38.42776,24.18377]. A completely different atmosphere! Heromilos is definitely more beautiful and more lively, with a beach bar and sunbeds/umbrellas. As expected, a tent and camper settlement is established there, but the beach is really big so there is no feeling of overcrowding. It's a great place to stay for one or two days, but in this case it's better if you arrive late in the afternoon or early in the morning when it is most likely to find a convenient parking lot. The available spots in the shade are very few and they are normally occupied by the tents.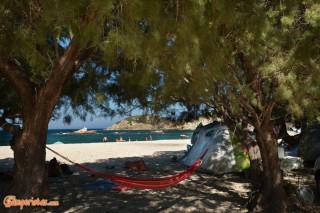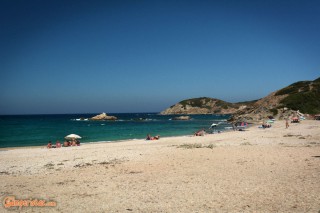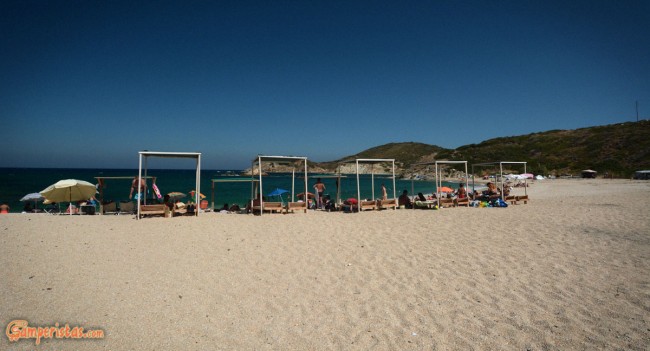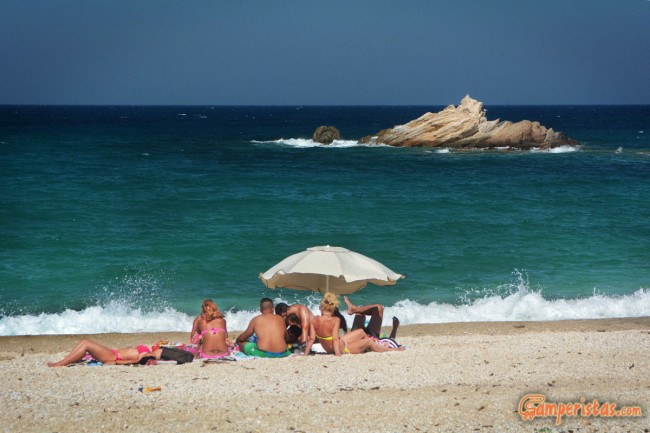 We decide to continue our journey to the north. As we are going up the hill, we make a stop to admire the panoramic view of the 'twin' beaches, one with bathers, the other almost empty!
We follow the coastal road, which is narrow but at least paved, and after a couple of kilometers we arrive at this wonderful, small beach called Magiros (it means 'cook') [38.43398,24.18050]. It is a splendid place but with very little space for parking. Just pay attention because the road along the beach is unpaved and it is created a kind of steep stair.
Our plan was to arrive at Kalamos, a highly praised place by a lot of people. Before arriving there, we came across another nice beach accessible only by foot, but we decided not to stop because we had to leave our camper on the narrow and quite busy road. After a while we saw Kalamos [38.44938,24.18143] from above; it's really beautiful but as we discovered a few minutes later not suitable for campers. Too many cars, too little space for parking. Besides, the only parking area available was in the slope so we didn't have much choices left. On the road again…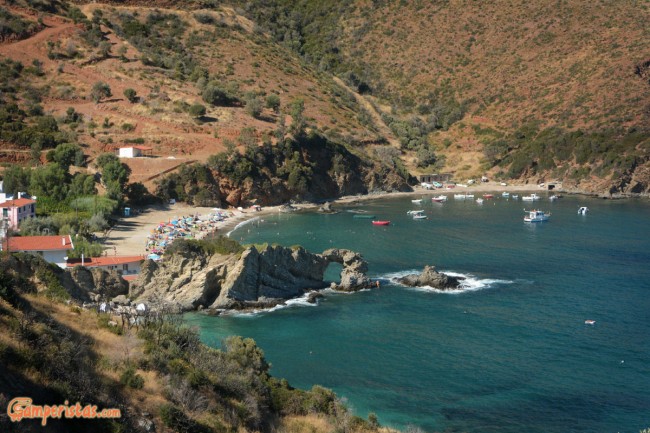 Share this post