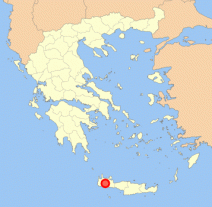 Another worthwhile excursion starting from Sougia is the hike of the gorge of Agia Irini. A seven kilometers path, easy and with excellent facilities to make the walk more enjoyable. Also in this case it is a great workout and lite resistance test before going for the Samaria Gorge.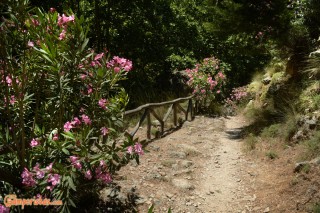 We take the bus to Chania from Sougia at 12.30, asking the driver to let us off at the beginning of the trail to the gorge of Agia Irini. After 45 minutes of twists and turns he finally let us off and we notice with pleasure that we are not the only ones. The ticket bought at Sougia cost us € 2.90 each. We stop for a moment to study the large sign-map showing the path and then we start following the signs. We pass by a bar and keep going until arriving to a first closed wooden kiosk, from there we take the real path and after a few tens of meters we arrive at another kiosk that is the ticket office. The entrance to the gorge's natural park costs 2 € and as we will verify, more than deserved. Tidiness and structures could easily compete with Switzerland's ones.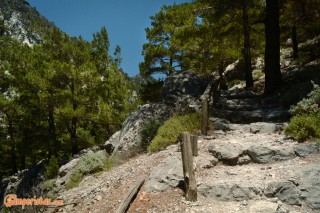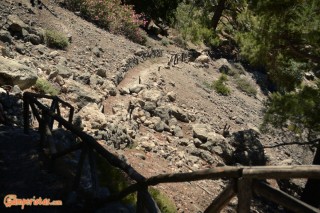 Chatting with the guardian at the ticket office, we learn that the kilometers of the trail are not really seven like the guides say. Apparently there was a small error in measurement. In reality the path is 9km, followed by another five on asphalt road to get back to Sougia. Very encouraging! We get on our way and begin the descent. At first the trail begins very softly, after about one kilometer and a half it becomes steeper, but without exaggeration. Of course done uphill it must be less amusing. We continue with a little up and down until we get to the last two kilometers, which are also the most beautiful.
At kilometers 1, 2, 3 and 4 there are drinking water fountains and a small picnic area where you can rest in the shadow. At km 3 There are also two toilets, they have thought of everything!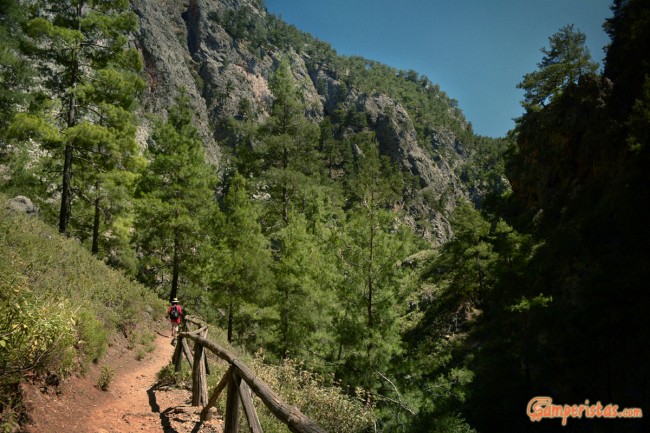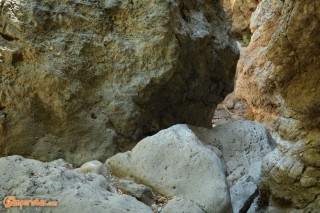 In the last part of the trail there are a couple of 'Indiana Jones' style passages, but not nothing too hard. The exit of the gorge is the most scenic spot and once there it is just a few more minutes to get out of the trail and find yourself on the asphalt, next to a bar conveniently located, for those who like to rest. To return to Sougia, there are another 5 kilometers of paved road which is not interesting at all.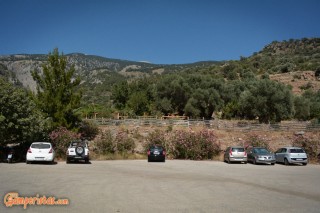 Here on the side the parking lot near the exit of the gorge [35.28543,23.82215]. For those who whold like to just take a glimpse of the path without missing out the best stretch, I suggest getting here with the campervan, hike upstream the gorge for a couple of kilometers and then return. Not important, but it seems that this way you do not even pay the entry…
Share this post