The castle of Geraki, less than 40 kilometers from Sparta, is an archaeological site rarely visited and certainly not one of the most important. Not surprisingly, however, it is called the small Mystras. In addition to the fortified city, there are indeed a number of churches with restored frescoes of the fourteenth and fifteenth centuries which are worth a visit if you are already nearby.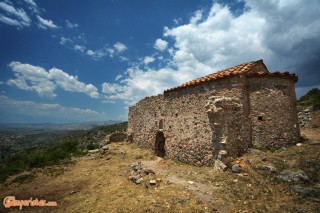 Geraki is located on the road connecting Leonidio to Gythion and Monemvasia. But few guidebooks mention the little treasure that hidden here and so just a few visit it. To get to the castle absolutely avoid passing through the village which, although being very cute, has some very narrow streets with low balconies. Take instead the ring road in the direction of Agios Dimitrios and keep left following the signs for the castle. [GPS N 36.993603, E 22.725126]
Arrived at the entrance gate of the site, open from 8 to 15 every day, free entry, you can proceed a few hundred meters with your vehicle to avoid a the walk uphill, but the dirt road is in poor condition and therefore it may be more wise to park it at the entrance.
Share this post