It is not by chance that the beach of Simos in Elafonissos island is famed for being one of the most beautiful in the Mediterranean. Along with this, its proximity to the mainland makes it one of the most popular destinations for RVs. With some issues about free camping to discuss…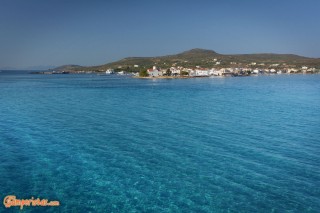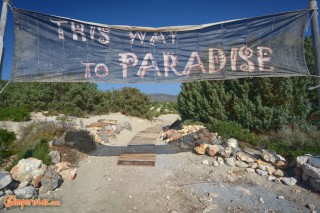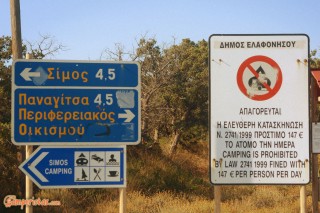 Already from the ferry approaching the island's port, you might notice what makes this place unique: it's the color of the waters of course! But until you reach the beach of Simos, it's hard to imagine the beauty that awaits you there. Go to the Peloponnese and miss the opportunity to swim in the sparkling blue waters of Elafonissos I think it's like a mortal sin or something similar Hard to believe that this is me saying this, not a passionate sea lover!
The place is truly a heaven on earth, although during August it may be too crowded to relax if you want to take advantage of the beach service that is available (one umbrella with two sun beds cost from 6 to 8 euros depending on the season).
We've been there the first week of July and it was really quite, partly because the beach is not only superb, it's also huge.
Sadly, the first sign we saw when we arrived at the port, reminds us that we are not so welcome. Free camping is prohibited in the entire island BUT (or … because) there is a camping waiting for us. In any case, you can park your RV in the existing parking areas for free during the day-time (it is prohibited only during the night). Thankfully when the camping is full, free parking (but not camping) it is tolerated day and night. A convenient day-time parking area is that of the A-Simos bar.
A few years ago there was another camper-stop on the other side of the island, but it's closed now. The voices say they were the owners of the campsite who 'motivate' the local authorities and who put pressure on police officers to 'disturb' who would want to stay in free.
Is this a reason to stay away from the island? No! There is always an alternative for those who do not want to pay the camping fees…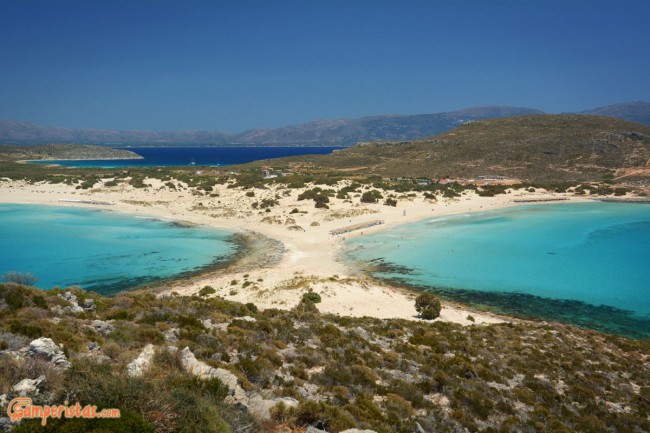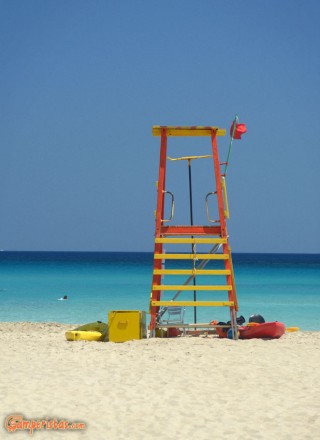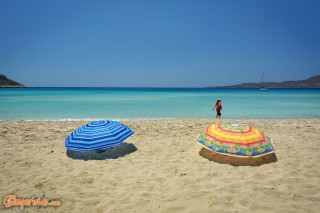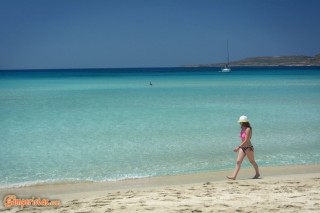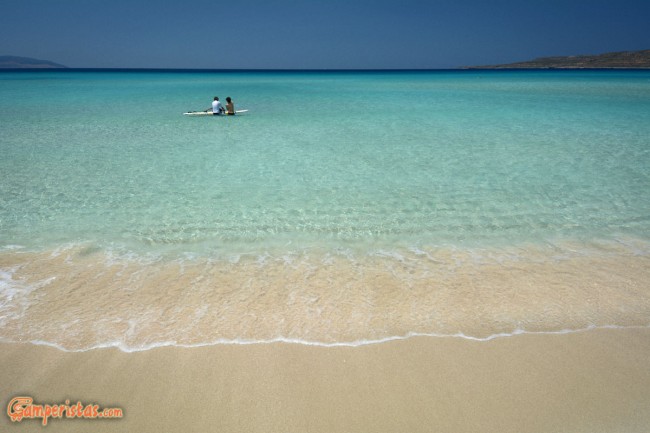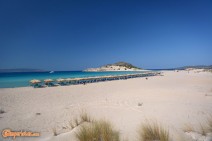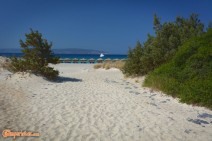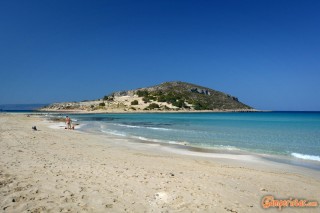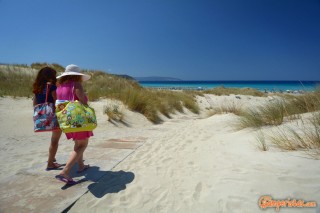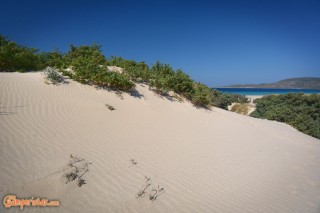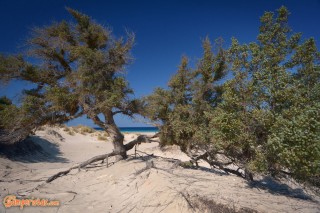 As for the campsite, I will dedicate my next post about it with details and prices. If you don't plan to stay for several days in Elafonissos but you want to enjoy the spectacular beach, you can just leave your RV parked in the port of Vinglafia or in the taverna 'Oasis' park-area (with free water supply) and take the ferry paying only € 1 per person. Bikes are free of charge; the 50cc scooters ticket costs 2 euros. We paid € 17.50 each way for our 5 meters RV.
If you are on foot and you want to rent a scooter, there is a "Rent-a-Bike" in the village. The price is approx. 18 € per day, more or less negotiable depending on the season. In August you should call Yorgos, the owner, (tel. +30 2734061377 mob. +30 6981238633, he speaks English) a couple of days before to make a reservation.
The distance between the port and the Simos beach is 4.5 km with a little 'up and down'. Note that there is no public transportation to get there.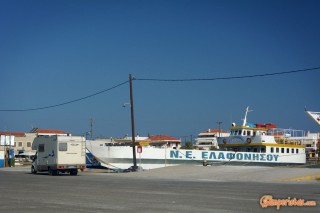 The ferry leaves every half hour from early morning until 00.30, with a crossing time of just 15 min.

The village of Elafonissos is quite picturesque having an architecture very much similar to that of the Cyclades islands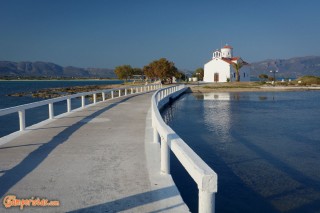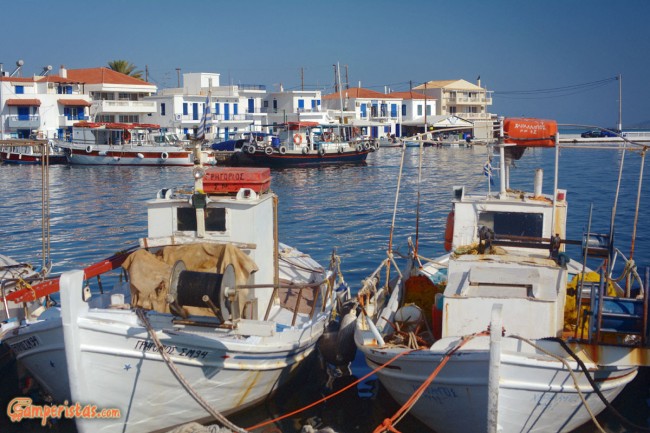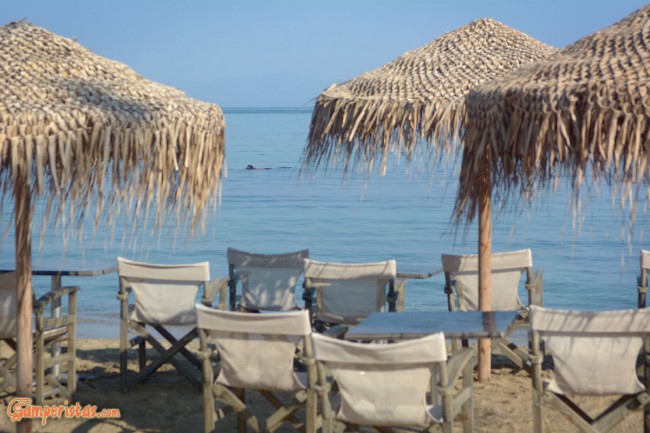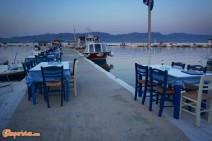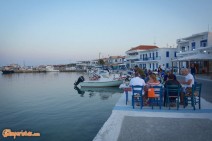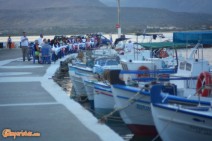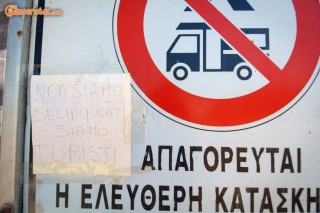 Just an advice for those who finally decide to bring their RVs to the island: watch out where you drive! The streets of the village are very narrow so it's better to avoid them, using the so-called 'peripheral' roads. If you want to check out the other side of the island, Kato Nisi (or Panagitsa), you will find a beautiful beach, although not comparable to that of Simos. Sadly, it is also full of prohibitory signs.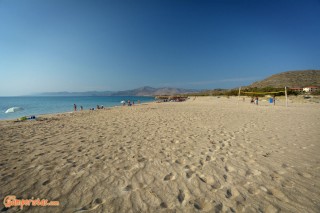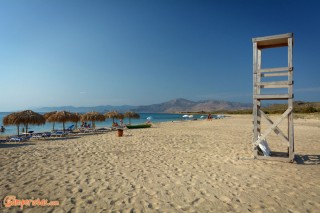 Enlarge Map
Coordinate GPS
Stop over Vinglafia:
N 36.52129, E 22.97938
Camping Simos:
N 36.47707, E 22.97472
A-Simos bar parking lot:
N 36.47019, E 22.98133
Kato Nisi beach:
N 36.49172, E 22.94415
Share this post