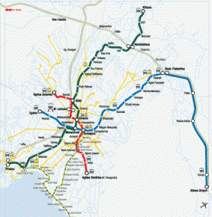 Driving around with your motorhome in Athens it is probably not a wise idea unless it is August 15th. If you want to visit the city, the ideal is to find a parking space in the suburbs, possibly along the subway line and then use the public transport to reach the center. Once there almost everything is within walking distance.
Tickets for public transport
---
[updated 08.28.2014]
The single ticket is valid for all urban means with unlimited rides, costs 1.20 € (reduced fee € 0.60) and is valid for 70 minutes from the first validation. If you're near the end of the 70 minutes and want to take another transport, you have to re-validate your ticket. You will have the right to get to your destination even after the deadline, provided that you will not change transport.
The daily ticket and the five days-ticket may be convenient in many cases. The first is valid for 24 hours from the first validation and costs 4.00 €, the second is valid for 5×24 hours from validation and costs 10 €. However, there is not a reduced fee for this tickets.
Who is eligible for reduced ticket:
– Children aged between 7 and 12 years
– Children aged between 13 and 18 years, showing proof of identity
– Students under 25 years, exhibiting and Student ID card
– Adults aged 65 and over, showing proof of identity
Children under 7 don't pay
Tickets can be found in all the subway stations, where there are counters or ticket machines. Newsstands and kiosks scattered around the city often have them, but not all of them, sometimes you have to ask two-three before finding them.
The daily ticket can be bought only at the subway stations.
Beware the urban ticket is not valid on the bus to/from the airport, on Koropi-Airport metro stretch and on a stretch of the E22 bus, when in doubt ask.
Download a map of the Subway & tram lines.
Surface public tranport
Bus and trolleybus are not the best choice when you have the alternative of using the subway. They are slower, waiting times are often interminable (15-20 minutes are not uncommon) and many lines are overcrowded. The Tram is a different matter. It is slow but comfortable! Too bad tram lines are so limited.
Further information: http://www.oasa.gr/content.php?id=leofstripes&lang=en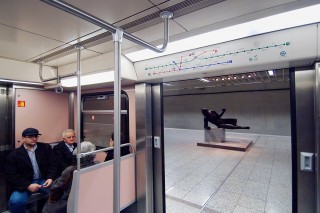 Ethiniki Amina StationSubway
One of the jewels of Athens, the underground, or rather the two newer subway lines are truly a showpiece for the city. Apart from being spotless and operating flawlessly, most stations have an artistic flair or a display of archaeological remains that makes the network of the subway a kind of museum or art gallery underground.
The old line (the green one or line1), although recently renovated, is slower and less attractive, but functional.
One curiosity: line 1, for the Greeks is called Elektrikòs (electric) or often simply called 'the train' instead lines two and three are the 'metro'. Keep this in mind when asking for information or describing where you are parked so as to avoid confusion and misunderstandings.
Another curiosity: it is increasingly in use, although arguably illegal, when exiting the metro to leave the ticket if not needed anymore, near the ticket machines, so that someone else can use the time remaining before expiration.
Further information and printable subway map: http://www.amel.gr/index.php?id=54&L=1
Taxi
Taxis in Athens are still relatively cheap, starting fee is 1.19 + € 0.68 € / km (min € 3.16) during the day and 1.19 € / km in the double rate (from 24.00 to 5:00) and in some cases may be a good solution. You can stop a taxi in the street by raising your hand and even if it is not allowed, often take double rides (two customers going the same direction) and sometimes may refuse to take a ride if the destination is too close.
As in the rest of the world, some drivers are taking advantage of tourists … keep your eyes open!
More information: http://www.aia.gr/pages.asp?pageid=988&langid=2
This one is funny; calculate your taxi ride cost: http://zee.gr/taxi/
WARNING: The information and rates described above were correct at time of publication of this post. Things change and the post remains … please have a look at the sites mentioned above you depending on my information!
Share this post