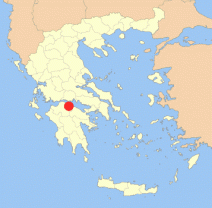 We found a nice stopover point next to Diakopto beach which is perfect for sleeping, if you want to take the Odontotos train early in the morning, but also if you come from or go to Patras located less than 70 kilometers from there. We instead decided to head towards the small town of Kalavrita so we started driving uphill. About halfway, next to Zachlorou train station, we made a stop to visit the impressive monastery of Mega Spileo.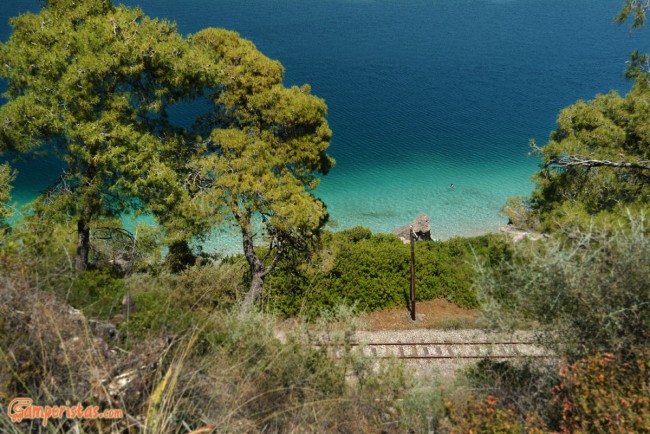 Coming from Athens we left the 'highway' and turn right to reach Diakofto town. Just before arriving there, we see this perfectly exotic beach with crystal-clear water! Of course we turn back to find out if it's accessible to campers. The beach is named Trapeza or Punta and as we are in the beginning of the season (June) it is practically deserted. I imagine that during August it shouldn't be that easy to find a place to stop. In any case, on the eastern end there is plenty of space where, if desired, it should be no problem to stop [38.17973,22.23557]. The nice part (see picture above) is on the southwestern part.

Anyway, we didn't stay because we wanted to check another beach just after Diakofto [38.20178,22.19285] that we'd already identified on googlemap. It proved to be perfect for parking although  the sea isn't great. You can park close to the beach, there are no houses in the immediate vicinity, there is tap water … a paradise. The fact that in early June we saw three campers, from three different countries, it made us realise that we didn't discover America! ;)
It was just a shame that the atmosphere was beginning to look like a gypsy camp! All the campers had clothes hanging, tables outside … It is the classic case where they are deserved to be fined!
We left the beach of Diakopto discussing that it is important to understand how such situations create problems in the community of camper-travelers who strive to respect the rules. After 26 km, almost without realizing it, we arrived below the monastery of Mega Spileon (it means Great Cave). To reach the parking area you should pass the entrance and drive uphill but it's not recommend to go there with the camper; it is better to leave your vehicle in the open space in front of the restaurant [38.09089, 22.17156] and walk the 500 meters leading to the entrance. As you will notice (see the photo below), the monastery no matter how famous or legendary it is considered, it is not exactly a good example of high-level architecture …
The monastery of Mega Spileon is supposed to be the oldest in the country, dating back to 362 AD! Since then it has been burned and rebuilt several times and maybe this explains its current, aesthetically questionable, 'version', resembling more to a 70's apartment building than to an historic monastery. In any case it remains an important place of worship for the Orthodoxs.
The monastery is open daily from dawn to dusk (free admission). Just have in mind that it is closed during lunchtime, which means from 12.00-13.00 during the winter and from 13.00-14.00 during the summer. To arrive at the church, you have to enter the main building and then climb the stairs to the first floor.
In contrast to the 'luxurious' surrounding halls full of colorful frescoes, the church is humble and very atmospheric. It hosts the beautiful and very strange icon of the Black Madonna made from wax and mastic resin by Luke the Evangelist. It is said that Virgin Mary blessed it in person …
We continue our exploration by visiting the nearby cave where the sacred icon was found and from which the monastery takes its name.The figurines inside the cave 'reenact' the scene of the finding: according to the legend the monks Symeon and Theodoros, informed by a young girl, arrived at the cave that was guarded by a dragon. Naturally, they killed it gaining access to the icon.  We are on the edge of kitsch, but still worth a visit…
Share this post