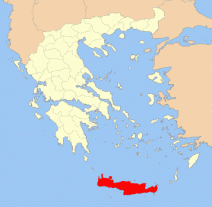 And now here we are on the last leg of our Cretan Odyssey! Looking back I realize that the entire trip lasted just one month! The fact that it took us 4 months and 38 posts to recount only part of our Cretan motorhome adventure, it is probably an indication of how rewarding it can be. Here follow some brief thoughts on the subject 'Crete'. It should not be confused with an epilogue; discovery is still ongoing…
Crete is no news for us: I am from Crete and although I was born in Athens, I was raised by the Cretan principles. Besides, a few years ago along with Massimo we made a documentary about the summit of mount Ida. That said, it's amazing how every time we visit 'our' island we discover new colors in the spectrum.
Hospitality: back at the origins
---
Maybe you've heard that hospitality used to be sacred for Ancient Greeks. Zeus was the protector of the travelers, not to mention that there was always the fear that the stranger was a disguised deity so they had to pay an extra attention when they met a traveler from who-knows-where. Believe it or not, this tradition is still alive in some remote places of Greece. In Crete, outside the tourist areas, it is the rule. If you are lucky enough to experience such a thing, don't forget that you too are playing a role as well. They are obliged to offer and you to accept, otherwise you have to expect misunderstandings (although foreigners are often excused when they don't behave).
Mass tourism: just keep on the outskirts
---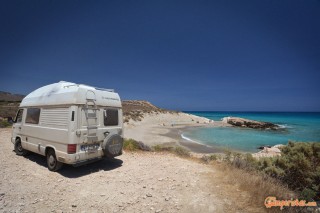 Crete, along with Rhodes, was one of the pioneers of the Greek tourism industry. As a result a big part of the northern coast is sacrificed in the name of cheap "all-inclusive" holidays trend. The contrast between the over-exploited resort areas around Heraklion (e.g. Hersonissos, Malia) and the wilderness of the rest of the island is quite stunning and instructive. Don't worry; outside the tourist areas there is always a beach waiting for your footprints even during peak season.
Roads and driving conditions
---
The roads are anything but smooth or highways! Many beaches are accessible only by dirt roads, often not passable in an RV. In Crete those who carry a scooter will feel privileged. Also, don't rely on the locals' judgment; they drive their vehicles as if they were 4WD, even when they are not.
It is very likely that you will encounter tight turns or funnels, especially if you are driving through small villages. All you need is just a little attention and patience. Don't forget that all these villages are served by buses; if they pass, then your camper will also pass. Another issue is posed by the rented cars and motorbikes. They are everywhere! In most cases their drivers are dangerous because they don't know where they go or what they drive, so remember to be very careful and to go slow.
Don't be surprised if you drive through the countryside and you see in front you a gate that blocks the road. It is for the goats, so you what you have to do is to open the gate, pass through and then remember to close it again.
The feeling of freedom
---
By using a little common sense (as always!), Crete is a paradise for free camping. There is no security problem; it is easy to find water; many beaches have showers and even toilets open to the public where you can empty the cassete. If you follow the rules and you content yourself to the dimension of your vehicle, it is unlikely to encounter a problem. But if you want to extend beyond your 'limits' and to open your tent or to set up a barbecue, you should go to a camping site. They are all  OK and they have reasonable prices even in high season.
Costs
---
Crete is a big island; even if you have planned to see just a part of it, you need time. We stayed one month and we managed to visit roughly half of what we wanted to.If you have only 10 days to spend, it is better if you catch a cheap flight and rent a motorhome in Crete.
The prices for a round trip ferry ticket from Piraeus start at € 350 (for a 6-8 m. camper) including deck-class ticket for two persons. Unfortunately there is no possibility for camping on board. The trip is overnight (the ferry arrives at 6.00 a.m) except in high season when they add an extra daytime ferry. If you arrive by ferry from Venice with ANEK you will have a 30% discount on the the Crete ticket if you book them together.
Gasoline is more expensive in Crete than in mainland Greece. Try to avoid the gas stations in Chania region as they are much more expensive than those in the other regions of Crete (I never figure out why). If you do your shopping in a tourist area grocery, expect to pay more; otherwise the prices are the same as in any Greek urban area.
Weather conditions
---
This is a little more complicate than expected! Crete has all the requirements for a pleasant stay. It's almost heaven! The climate is mild all year round with no extreme changes of the temperature; it's never extremely hot or cold. The sunshine is the rule all year round too. The enemy is the wind. You should never underestimate it because it could be really dangerous. Never swim when it's windy.
Expect that the seawater temperature is higher in autumn (even in late October) than in early summer. Even during the hot days, the temperature falls at night in the countryside, so you will never have trouble sleeping because of the heat.
Tips for vegetarians
---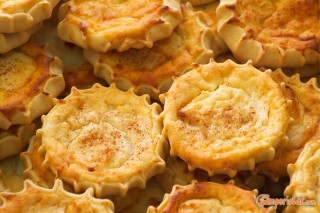 You may have heard that Crete is meat-dominated. This is a huge misunderstanding. The only time a vegetarian would feel uncomfortable is if he is invited to a traditional weeding, where only meat, pilaf made with meat stock and yogurt are served. (But in this case, who cares about food… Cretan wedding are a unique, almost dionysiac experience with music and dance).
In everyday life, the Cretan cuisine has a huge variety of vegan and vegetarian dishes. Besides the 'classics' of the Mediterranean cuisine, the Cretan gastronomy includes an infinite number of wild herbs.
Among some 'strange' things to try: skaltsounia or kaltsounia (in the picture above, made either with wild herbs or with sweet cheese), dakos, stew of chestnuts, staka (crème made with goat's milk fat), Iordani's bougatsa, xinomizithra (fresh cheese like feta), sarikes (kind of small cheese pie). Don't forget to drink rakì, the local brandy.
Share this post