Months after our visit to Berlin, we try to get used to the idea of visiting a big city again. As it was not enough, all information seems to say that Barcelona is one of the most dangerous cities in the world. Don't even think to park in the city and leave the van unattended…
We finally stayed for eleven days, free parking near the university [41.39041,2.11306]. Close enough to the city center (5km), 15 minute walk to the underground and next to the bus stop (54) that takes to town. On the top of that, free wi-fi gently offered by the university

The only thing is to arrive late in the afternoon, after 19.00 or during the week-end when the neighborhood is less crowded. Avoid also match days since it is close to Camp Nou stadium. Also there are not super-markets and grocery stores close by, so be prepared.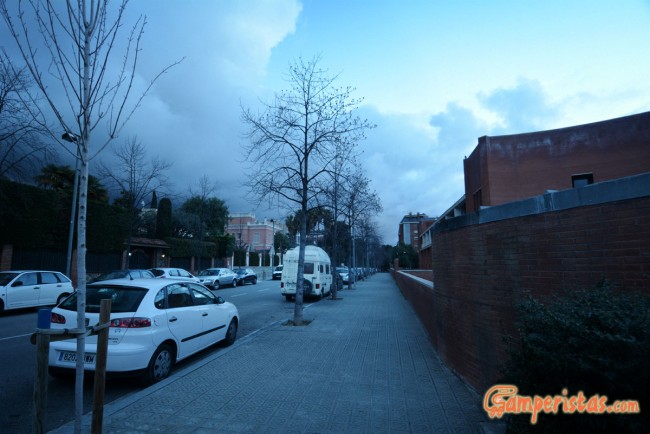 The underground works fine and cheap, if you take the 10 rides ticket for 9.95€ valid also for more than one person. During our stay we moved a couple of times to Colonia Guell. Less than 15km from our parking spot, it is an interesting place for industrial archaeology fans, but mostly for its free camper stop [41.3654,2.02544].
Barcelona is a great city, full of life and surprises at every corner. We almost all of our time just walking around the city and enjoying the atmosphere and the architectural wonders.
Everything Gaudi related is overpriced and overcrowded. We actually went to the Sagrada Familia just for free toilets in the small park in front of the entrance. Another strategical spot is at Corte Ingles mall in Catalunia square. In front of the mall there is also the tourist office with free wifi and maps of the city.
Very nice also Hibernian second hand bookshop, near the Sagrada Familia (Carrer de Montseny 17), specialized in English books, but with a big selection also of other languages, at very fair prices. Don't miss the covered market of Saint Antoni, the most authentic and interesting in our opinion.
The park is a must. We spent one whole afternoon there, enjoying from acrobatics shows to a flamenco dancer rehearsing… just beautiful !
Barcellona is a great city to visit and it can be visited without having to pay 20 euros and more just to park, as long as your vehicle is not oversized 😉
Share this post