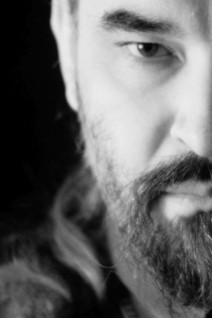 My name is Massimo. I was born in 1965 in Milan, but I live in Greece with some minor interruptions, since 1976. I think I can say I know the country well, both its geography, having traveled around a lot and its mentality, since not only I grew up here, but I also have the pleasure of being married to a Greek, Elissavet, who is a journalist and my inseparable companion also in work.
I have been a travel photographer for ever, more recently also a documentary filmmaker, an amateur cook (vegetarian), and a traveler by choice and profession.
We bought our camper it in 2005 and discovered a new way of traveling that has excited us from day one. Since then we have done more than 100,000 km with a personal best of 3 consecutive months on the road… and the enthusiasm has never diminished, indeed.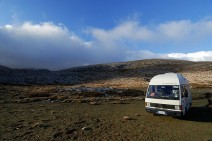 Our tiny camper: a 1988 Weinsberg with a Mercedes MB100D chassis.
Here we were at 2000mt altitude,on mount Idha in CreteWe chose a small camper, the smallest that we found that had a decent bathroom, in order to pass as unnoticed as possible. This allowed us to sleep even in the center of many cities in Europe without any trouble. The only time the police came to disturb us was in a small Italian town … but that's another story …
What follows is my manifesto, my philosophy as a motorhomer, just to give an indication of the spirit of the information and articles that you will find on this site. Travelers or holiday makers you are all welcome and I hope that you will find something useful in these pages.
My manifesto:
– Being in a hurry and being travelers do not get along. The highways are made for those in a hurry not for travelers.
– A stop at a campsite can sometimes be very useful. In the last seven years it happened to me ​​twice 😉
– Big supermarkets are convenient and usually cheaper. When you are in transit perhaps they are also the best option. But, when you stop for a couple of days in one place, is better to buy daily from local shops. So the local community appreciate more motorhomers and you help the local micro economy. Besides, when was the last time you had a chat with a cashier at the supermarket?
– Avoid tourist traps. Those places that have little or nothing to offer anymore and make you pay the reputation they have built. If really want to visit one, just do it out of season.
A clarification: When I mention brands, products, shops, local etc. in my articles, I express my personal opinion gained from my own experience. They are always products or services I have tried, used, loved or hated in first person. In no case, I promote products only for commercial and advertising purposes.
After making this clear, if you buy something following one of my links, be aware that in some cases I take a commission and you help to cover the expenses of this blog.
If the information you have found in my articles were helpful to you, maybe they even make you save some money or some bad experience, you can show your appreciation by making a donation, small, even tiny! It will still be much appreciated

If you would like to contact me directly you're welcome to drop me an email