We visit Carpentras on a Friday morning, to go to the weekly market, known as the largest and the most important of the entire Provence but also to take advantage of the nearby camper stop where we discover how well-organized and friendly the French are towards motorhomes! Sunday morning we enjoy the truffle festival in Pernes les Fontaines, another lovely, quaint village…
We arrive in the morning in the camper stopover of Carpentras [44.04409, 5.05455] and we simply can't believe our eyes! It is located just outside the entrance of the municipal campsite and it is for free. It seems that in France the motorhomes are not demonized, as long as they act responsibly, respecting the nature and the local residents, and they obey the rules of each place. It is clear that if a motorhome is oversized and over-weight and it insists for wild camping, it only creates problems to the locals and to other camper owners.
After we park our camper van, we start to orient ourselves and to plan our visit to the town. We realize then that there is a free shuttle going to and coming back from the central square during the market day! What a nice surprise! The first impression is more than welcoming…

We walk around the market stalls selling everything, from clothes, shoes, home-ware, local products such as knives and baskets and of course fruits and vegetables, in great variety and nearly half the supermarket prices! . Entering the old town we realize that the stalls are extending inside the walls too, covering virtually the entire city. It is very atmospheric and quite similar of an Arabian souq!
Carpentras is not a very tourist town, although the tourist office is huge and it is worth a visit in itself, being housed in a former convent. They are very interested in promoting the black truffle, fundamental product of the area.
Relatively close to the camper stop there are also Lidl and Aldi supermarkets.
In town we found a comfortable Laundromat [44.05643,5.05109] open 24/7 (3.80 / 6kg – 1:30 dryer to 18Kg). The market square, during the other days is a huge parking lot [44.05228,5.04875], where small campers can park without problems during the winter, and it is much closer to the town center.
Below you can see some of the city's attractions, for example the roman triumphal arch. I took us a little time to find it, perhaps because we expected something more triumphant! ;)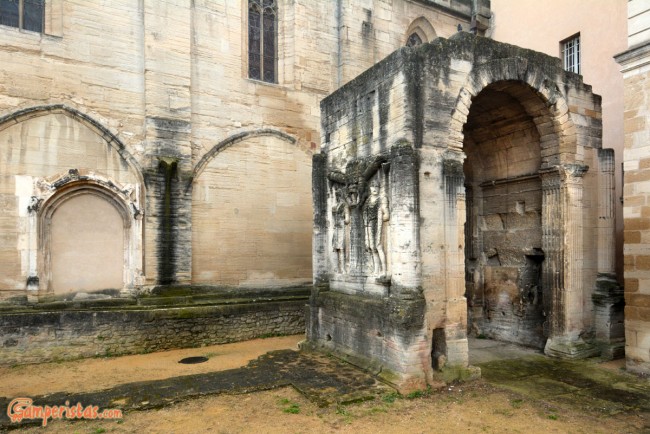 There are various towers and a relatively modest cathedral…
…an old-style shopping arcade and an art-deco swimming pool, which is certainly more interesting from outside than from the inside.
Conclusion: Carpentras is a very relaxing stopover, perfect for a couple of days;)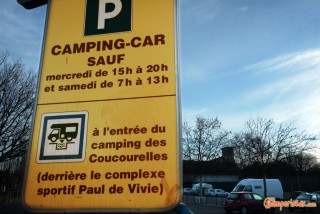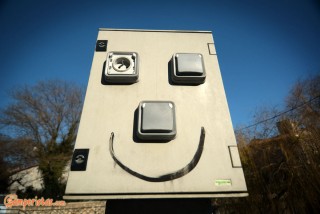 On Saturday night we decide to move to Pernes les Fontaines, just few kms away of Carpentras, to visit a truffle festival scheduled for the next day.

Pernes has a special parking area for campers

[

43.99946,

5.05743

]. It is an

ample parking

,

close to the center

,

quiet

,

with no facilities.

If you need to empty your black water and grey water tank you should go to another area

[

43.99981,

5.06832

]. It is for

free too and

,

guess where is it?

Outside the

campsite of the town

😉


A sign indicates

that

the parking

is closed during

Wednesday and

Saturday morning

,

without giving

an alternative

…


The only

problem with the camper stop of Pernes is that the

water

supply  is

closed during the winter

(it is

open only

from

15.03

to 31.10.
Below you can see

an example of

CamperStop

Art!
The town is very beautiful and picturesque, well worth a walk. We particularly liked the strong emphasis on secularism, seen on the walls of the school but also in the use of the old church as a multi-purpose center for the community. Once again, chapeu to the French!
The Truffle Festival resulted in a small and cheerful village fair, but it was interesting at least for the demonstration of how dogs and pigs are used to find them. Needless to describe the 'scent' of the exhibition hall;)
Share this post